VINISUD 2016 : HALL 3 B90 February 15,16,17 in Montpellier
AOC TERRASSES DU LARZAC IS BORN
At the foothill of the Larzac, the domaine lives up at 350 metre high, is located in a symbolic place where the wines are unique for their freshness and fineness in Languedoc ...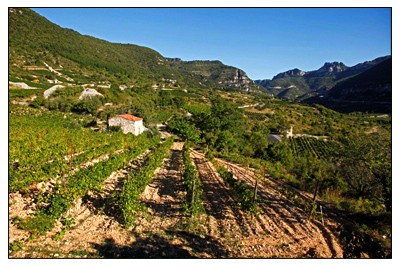 Ten hectares (25 acres) of vines are planted on stone walled terraces known locally as 'clapas', nestling in the 350 metre (1150 ft) hillsides at the foot of the Larzac plateau. We care for the limestone scree covered land as naturally as possible using plant based infusions. We work the soil and pick the grapes by hand, carrying them in small open weave baskets to the winery where they are sorted and de-stemmed. Fermentation takes place in wooden conical casks. Half the wine is then matured in vats, the remainder in oak casks.
The vineyard's features, combined with the altitude, the deep limestone and clay soil and temperate climate make it a perfect place for great wines to thrive.