Ze Rozé
We're not pretentious which is why we christened our rosé : Ze Rozé. It's a relaxing wine at its best when being drunk in the shadow of a fig or oak tree, or in the shelter of a sunshade. A happy wine made by direct pressure on grapes from our Syrah and old Cinsault vines. Fresh but classy, easy to drink and thirst quenching, on its own or with food, it's equally good with mixed summer salads or grills. And there's no malolactic fermentation to detract from the freshness that reflects our terroir.
Ze rozé 2015 will be available February 5th.
Le Grand Pas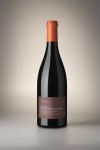 There's no false modesty in our use of the adjective 'Grand'. Le Grand Pas epitomizes our adventure in Languedoc. In 2007, Le Grand Pas comes from a majority of Grenache from the plot called "le caillou" (the stone). Fineness, elegance, and deepness, will qualified this rare wine produced in limited quantities. It shows how the specific terroir of Pegairolles can give birth to great wines...
Grand Pas 2013 available
Les Cl
apas white
The two near forgotten grapes that make up this wine, white Carignan and Terret Bourret, come from old vines that encircle our terraces. The plants are relatively weak so the noble character of the terroir has no trouble coming through.
Actually Clapas white 2014.
Les Clapas red
These old Carignan vines are pruned to bush shape, so the grapes stay fresh. There's a touch of opulence from the Grenache which sets off the fruity, floral characteristics of old Cinsault and Syrah vines. A truly southern wine that reflects the best of Languedoc grapes. Clapas red 2014 available.
Les Petits Pas
Named in honour of our sons, Jules & Gabriel. This wine, happy blend of the Domaine's grape varieties, is light and mouth watering. It's lively too, which makes it a delightful, everyday drink. Petits Pas 201 available February 5th.
Le Pas de d. or Mum's vat, is a blend of Cinsault Grenache and Carignan. 2013 available.